Profile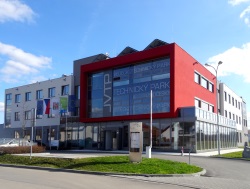 For more than 25 years FIEDLER AMS s.r.o. has been a pioneer in developing of whole system solutions for data collection, telemetry, data analysis and process control.
Our devices are applied in highly diverse industries and in every conceivable environment all over the globe. As a consistent innovator and reliable partner we have grown to be No.1 of our subject in the Czech Republic and continue to steadily work along with our customers to find sustainable solutions for newly arising challenges.
Currently our staff comprises 16 employees as the company continues to grow, while we supply more than 10'000 stations in over 20 different nations.
History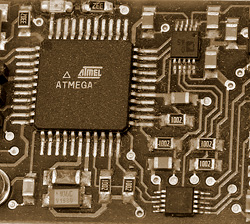 1990 - Foundation of the company by Ing. Jindřich Fiedler.
1991 - Release of our first serial product: A compact control unit for milk pasteurizers.
1993 -Development of M4000: Our first universal data-logging & process control unit and predecessor to our best-selling product M4016.
1997 - First year to distribute our products internationally
1998 - The beginning of a success story: Release of M4016 v1.
2000 - For the first time our devices are able to communicate with each other. Furthermore first remote access to devices via dial-up connection
2004 - By introducing our service CloudFM, we are among the very first industry players worldwide to provide a cloud solution for uncomplicated remote access to our devices via web browser
2007 - Launch of our nationwide open-accessible flood warning system hladiny.cz. In 2012 the service is expanded by an OSM-User Interface
2007 - M4016 is redesigned from scratch and is now inter alia remotely-accessible at 100% and expendable to 32 analogue inputs
2010 - Introduction of modules for satellite transmission. This step qualifies our devices to operate virtually everywhere in the world and far away from any kind of communication system.
2010 - Launch of the compact Hydrologger H1 for water level and flow monitoring and the specialised devices H40 and MINILOG.
2011 - More new products follow, such as the hydrostatic water level probe TSM 22 and a modern snow load control system
2015 - Our company is transferred to the legal form of a corporation with limited liabilities (s.r.o) and henceforth operates under the name of "Fiedler Automatic Monitoring Systems", better known as Fiedler AMS.


By relocating our business to the newly built industrial estate JVTP, we were able to establish a greater state-of-the-art working environment that lives up to our continous striving for innovation and highest standard of quality.

By launching a brand-new product generation (H7, Q2, E2) in the same year we prove that we take this credo seriously and rise to the changing challenges in the industry.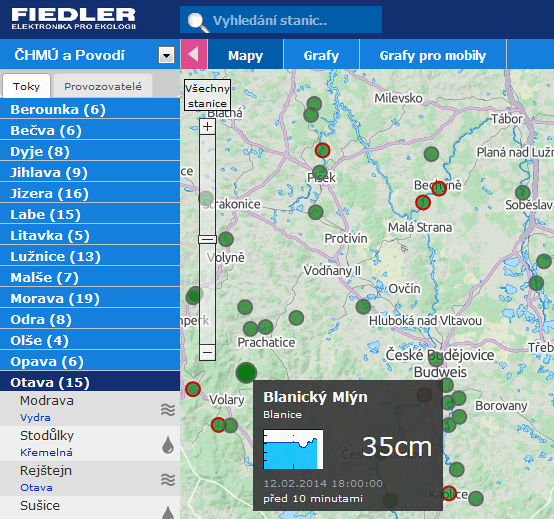 By courtesy of their respective owners, this site shows weekly charts of several hundred stream gauge stations and flood warning systems throughout our country (most of type M4016). The server also generates smaller 2-day charts which are suitable for mobile phones (www.hladiny.cz/mobil) . Most of the data is updated in an interval of 15 to 60 minutes.
References
Among our customers we count major players from various industries such as ČEZ-Group, Robert Bosch, Škoda, Energie AG, Veolia etc. Hereafter we have listed some more interesting projects in which our devices have been deployed:
2007 - For the first time our products are utilized on a large scale for meteorological monitoring along the peeks of Šumava-Mountains.
2009 - As part of an extensive groundwater remediation project, water-level measuring and pumping stations are controlled by our M4016 units.
2009 - In Himalaya a M4016 unit controls the power supply of a school via solar panels in the village Kargyak.
2012 - Construction of a comprehensive flood warning system with satellite transmitters in Moldavia where GSM-coverage throughout the country is not assured due to a lacking network infrastructure
2015 - In the Arabic Desert devices manufactured by us are utilized to control water flow in clean water pipelines
2016 - From summer of this year multiple of our devices of type MINILOG are going to be applied in Antarctica for experimental purposes