Water level and flow monitoring on small water-courses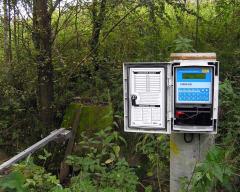 Building up of small measuring places for needs of research institutes, universities and organisations is a very common application of our telemetric stations M4016-G3.
Our company installed great number of sharp crested weirs on streams and little rivers. These devices continuously work out instantaneous flow and total flow. M4016 software has pre-set rating curves for basic types of sharp crested weirs.
Stations M4016 measure qualitative and quantitative values and also work as a local flood protection warning system. City´s mayors and fire brigades are recipients of warning SMS messages.