GSM directional antenna 12dB
Directional GSM antenna YAGI 12 dBi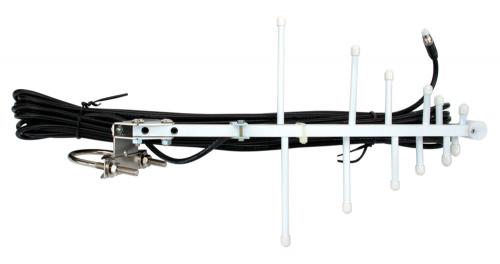 Directional GSM antenna designed for places with a weak signal. A directional GSM antenna requires precise routing and a homogeneous electromagnetic field. If any of these assumptions are not met, the received antenna signal may be weaker than the AGSM-9dB rod antenna located in the same location.

Thanks to its precise construction, the antenna guarantees excellent weather resistance and is suitable for outdoor installation.

The antenna is designed for signal reception / transmission in GSM (2G) technologies in the 900/1800 MHz operating bands

The antenna includes a 4 m cable terminated with an SMA or FME connector.
Technical parameters
Gain: 12 dBi
Connector: SMA or FME
Cable: 10 m
Technology: GSM
Mounting method: mechanical
Polarization: linear
Impedance: 50 Ω
VSWR: <2.0: 1
Beam angle: H-30°, V-30°
Operating temperature: -30 °C to + 80 °C
Design: external
Dimensions: 300 x 192 x 26.6 mm
Weight: 665 g
Antennas and extension cables