DE2 ESKO12 sensor holder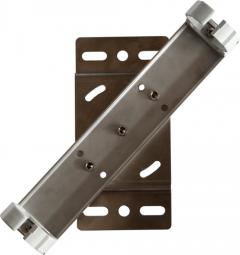 Stainless steel holder for optical rod sensor of dissolved oxygen ESKO12. The holder can be attached to the wall or with the help of brackets on the railing of the activation tank.

The adjustable inclination of the rod sensor from 20 to 45 degrees is important for the correct measurement of dissolved oxygen - after the luminescent target of the measuring head, small air bubbles rising upwards must not slip and do not get caught in the rear of this measuring target (no "air pocket").
Rod sensor ESKO12 inserted in the holder DE2: