24V/100W DELTA power supply
Síťový zdroj vyšší kvalitativní třídy je určený pro napájení měřících systémů a sestav požadujících napájecí napětí 24 V DC. Maximální proudové zatížení zdroje 3,8 A dovoluje realizovat i větší měřící sestavy nebo napájet topné sekce srážkoměru SR03/V.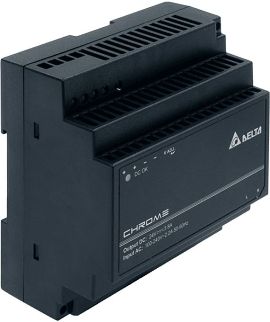 Safety and working conditions
The DELTA power supply is a protection class II device. Therefore, the power supply does not have a protective terminal and protection against electric shock is provided by double insulation. This means that no grounding is required, resulting in a low leakage current.
The source is able to work with input voltage in a wide range of 90-264 VAC and in a wide temperature range from -25 °C to 71 ° C.
The power supply is certified according to safety standards according to IEC / EN / UL 60950-1 Information Technology Equipment (ITE) and UL 508 Industrial Control Equipment (ICE). The source also fully complies with the RoHS directive 2011/65 / EU on environmental protection.
Installation notes
The mains supply must be switched off before connecting or disconnecting the power supply.
For good heat dissipation, it is necessary to ensure 50 mm of free space above and below the source and a 25 mm distance from other devices on the DIN rail.
Dangerous voltages may still be present at the input terminals for at least 5 minutes after the mains supply has been switched off.
The power supply must be installed in a device with at least IP54 protection.
Technical parameters
Single-phase power supply for DIN rail
Output voltage: 24VDC
Production tolerance of output voltage: ± 2%
Output voltage regulation: 20,0..24,48VDC
Output current: 3,8A
Output power: 91,2W
Rated AC input voltage: 100..240VAC (90..264VAC)
Current consumption at 230V AC: <0,60A
Efficiency at 230 VAC:> 85%
Integrated protections: Overload, short circuit, overvoltage
MTBF:> 500,000 hours at 35 °C (50% at 40 °C)
Working temperature: -25 °C to +71 °C
Weight: 0,35kg
Dimensions: (H x W x D): 91 x 89,9 x 55,6mm
Insulation class II, double insulation, SELV, ROHS