Controlling technology of waste purification plants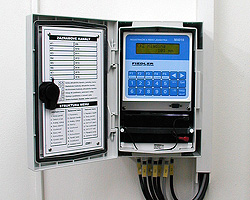 The controlling unit M4016-G3 is very suitable for congrolling of water purification plants, water pumping stations, because it has very low purchace and operating costs.
The unit is a combination of a controlling automat, telemetric station and system for sending warning SMS. All this is in one device which is suitable for permanent running in wet and aggressive places.
Unit construction and software allow to measure and record up to:
6 levels (by pressure sensors with power outputs 4-20mA)
6 flows (by induction or ultrasonic flow meters with outputs 4-20mA)
8 flows (by flow meters with pulse outputs - OPTO or REED)
40 binary values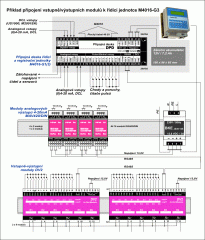 As many as 12 relays with switching contacts are used for controlling of technology. Relays are placed in external I/O module DV2 which is fixed with DIN bar. Communications between DV2 module and M4016-G3 unit go through a serial interface RS485. The relay programming is done by parameterization of M4016-G3 unit.