Flood warning stations for cities and villages - local warning system
Our company delivers and installs cheap and reliable hydrometric stations,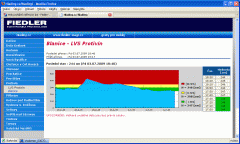 which monitor water-level, transfer data into the server database and also are a flood warning system. M4016 stations send warning SMS messages and provide actual graphs accessible via web viewer or cell phones.
The purchase price of M4016 hydrometric station and its complete installation and setting do not cost more than 50 000,-CZK. We have already installed more than 100 stations in the Czech Republic and abroad. The number of stations is yearly increasing.
The popularity of our stations is based by these parameters: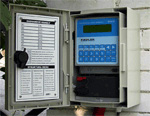 Compact design and high protection which made the station very reliable. All electronic parts including GSM/GPRS module are placed inside the robust metal cast.
Possibility to set limited and gradient alarms which are activated by fast rising of measured water-level
Rich software support offers a great number of possibilities for visualisation of measured data
Actual situations of monitored streams are accessible on the website www.hladiny.cz
Generating of small 2-days level graphs which are accessible whenever and wherever from cell phones which have internet connection (www.hladiny.cz/mobil)
Possibility to install the station in a place without power supply
Possibility to do a remote parameterization of the station via web viewer
Our support with setting and changing of station parameters
Very low purchase costs.
Hydrometric stations equipment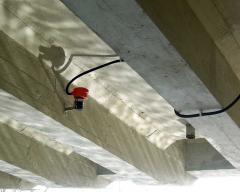 Water level is sensed by submersible pressure transducer or ultrasonic sensor. Pressure transducers are installed on bridge pillars or stony banks. Ultrasonic sensors are placed only on bridge constructions.
M4016 stations analyse the limit alarm and gradient alarm. Then the station can warn chosen persons of fast level rising before the level reaches the limited level. Also, it is possible to add some sensors for detection of rainstorm and measurement of soil humidity (as it is described in the chapter "Combined gagin and rain gauge stations").
The station can be charged by the public lighting or by changeable batteries which should be changed once per 2 or 3 months. It depends on the frequency of data transferring. We can also deliver batteries which can run up to one year without changing.