M4016-G general-purpose control station and flow meter
general-purpose registration and control unit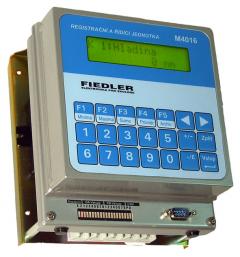 Measurement and registration of flow rates
Control of waste water treatment plants technology, pumping stations and storage water
Telemetric and stream gauge stations
Warning flood protecting system
Meteorological stations
Field data loggers
Measurement and registration of water levels in sewerage systems
Data transfers via GPRS network, warning SMS messages
Robust Enclosure with High Protection IP66
Registration and control unit M4016 is the next step in more than 20 years development of similar device in FIEDLER-MÁGR Company. Two important water-supply companies have participated in its development with their recommendations. The result was a device with wide use in various kinds of applications.
Fully equipped unit M4016 includes universal data logger, telemetric station with built-in GSM module, programmable control automat. In conjunction with ultrasonic or pressure level sensor includes multiple flowmeter.
The unit M4019-G has easily modifiable SW and HW. Also, M4016-G is highly resistant to adverse conditions in which often works. The unit can be expanded about several external modules through them customers can modify their configurations.
Basic describtion of the unit M4016
Measuring channels
User keeps at disposition 16 (32) Dynamically engaged record channels for measuring and archiving of flows, levels, pressures and many other values. Actions and failures of pumping device or generally state of contacts can be monitored via 40 binary channels. One text channel records all unexpected events including sent and received SMS, outages in supply, etc.
Total unit data memory is bigger than 400.000 values. This means that the memory is filled and the oldest values are rewritten after several years of operational time.
Inputs and outputs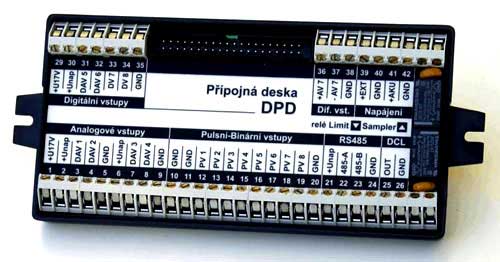 Basic Digital Connecting Board (DPD) contains terminal blocs of 6 current inputs 4-20 mA and 8 Pulse-Binary PV inputs, serial interface RS485 and 2 Relays switching contacts. Special Connecting Board has extra inputs for four-wire connection of temperature sensors Pt100, serial interface SDI-12 and voltage inputs.
One unit M4016 can be connected via RS485 maximally with 2 input/output binary modules DV and 16 output modules MAV420/DIN with galvanic separated current output 4-20mA.
Mechanical design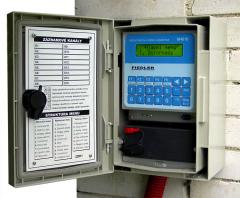 A whole electronic part of the unit including I/O circuits and GSM/SPRS module is enclosed in a compact metal casting. It increases the unit resistant to outside climatic and electromagnetic adverse influences. Moreover, this casting, accumulator and connecting board are closed in a robust plastic case with a cover IP66. Moreover, this casting, accumulator and connecting board are closed in a robust plastic case with a cover IP66.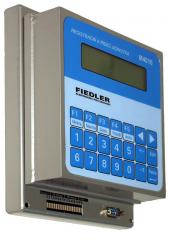 Units are delivers in 3 mechanical designs:
a wall-mounted construction for fixed installation
a built-in design for the unit installation into a switch board
a design for installation on the front panel
Low power consumption
Programmable consumption control of connected sensors, encapsulated GSM module and low unit self-consumption based on a modern RISC processor and 3,3V logic enable to put the unit on a place where no line voltage is available.
Regular operating time of the battery is from 6 to 12 months without its changing. If a small solar panel is connected to the unit, the unit does not need any other power supply.
Software equipment of units M4016
Setting of recording channels parameters, other parameters of the unit and conditions applicable to automatic sending of warning SMS is done via the Internet or on the place with connected PC and SW MOST. Also, most parameters can be set from the keyboard controller.
The basic functions of the software units M4016 are:
Displaying and saving of measured variables in adjusted units of measurement.
Calculation of instantaneous and accumulated flow of water level according to pre-set parameters of used sharp crested weirs (Parshall or Venturi overflowes). The unit is preset up to 14 equations for the most commonly used profiles.
Calculation of flow for combined Parshall overflowes (double and triple combinations).
Correction of flow rate in reverse afflux on the outfall Parshal flume (calculation uses signal from 2 connected ultrasonic sensors).
Flow rate calculation from relationship water level/flow rate.
Instantaneous and accumulated flow rate calculation from pulse of REED and OPTO sensors.
Sum and difference functions above two measuring channels (sum and difference of measured variables). Calculation of moving total or average and trends above arbitrary channel.
Nonlinear output signals can be corrected (separately for each channel) with polynomial of the second number.
Statistical calculations
Finding out up to 5 daily minimums or maximums including time when are data archived.
Calculation of daily average value for recording channels of flow rate and total flow.
Working hours with a resolution in minutes for each binary channel.
Alarms
Separate limit alarm for each measuring channel.
Separate gradient alarm for each measuring channel.
After alarm state evaluation it can be set to the channel increased frequency data logging than in the normal mode even the unit switches to a more often data transferring into the server.
External input-output modules
Parameters for controlling of 14 real relays and 6 virtual relays (limit switching according to value, function of cycler, time switching, etc.) Virtual relays can be combined previous switching conditions into one output.
Parameters for controlling of 16 external modules DAV420 with a galvanic separated active analogue output 4-20 mA.
Built-in software module PI controller, that is adapted to control the actuator or the inverter by using the analogue output signal MAV420 (controlled pumping tests on the adjustable constant flow, level control in LU, control of blowers and pumps, …)
Data GPRS transfers and warning SMS system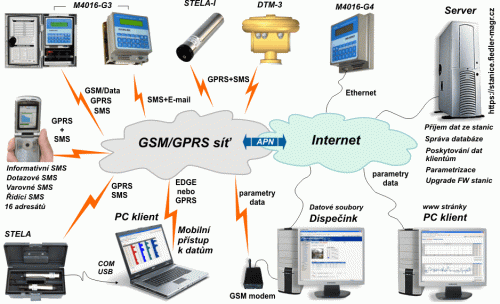 Units M4016 are automatically sent measured and archived data into the server database (data hosting) via GPRS in regular intervals.
Another operating mode is data transmission of measured data via mobile or fixed line network dial-up under the SW MOST.
Phone book for 16 recipients, grouping into 3 groups enabled, adjustable permission to control separate numbers in the phone book
Warning system - 32 adjustable and 8 pre-set warning SMS messages.
Activation of data connection (including GPRS) or sending SMS: after achieving of pre-set limited value in the measuring channel; after limit or gradient alarm activation; regularly; in a case of pump failure; low power in an accumulator; after switching the binary input; etc.

Adjustable delay and hysteresis of limiting SMS.
25 interrogation and command codes for enquiry or control SMS creating.
Automatic insertion of a current value of measuring channel into an SMS text.
Programmed switching on of a modem for a set time in the interval from hours to weeks.
Time setting for sending daily SMS, and time and day setting for sending weakly SMS.
Control of one controlling station M4016 from up to 4 controlling stations via indexed and mutually validated SMS or via GPRS communication (system of pumping stations - storage water tanks).
Automatic switching between winter and summer time (daylight saving time) ensures regularity in sending SMS.
Security
Individual authorization code for outputs control and for parameters change.
Operating time with resolution in minutes monitoring time of switching the device on and off. Possible failures in measurement of connected sensors are separately registered for each measuring channel.
Event log included in a data memory records incidents such as: switching of chosen inputs, power failure and restoration of supply, sent and received SMS, etc.
Data processing on the server - data hosting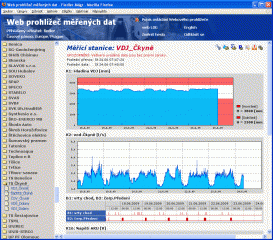 Rich software displays charts and graphs of measured values, averages, searches limit values, calculates total flow, prints measured data in the form of a report, exports data into a text file or via SQL server, sends emails, monitors credit of pre-paid SIM cards and has many other functions.
Technical parameters

| | |
| --- | --- |
| Parameter | Value |
| Number of analogue inputs | 6 current inputs (0)4-20 mA |
| Number of Pulse-Binary inputs | 8 (other 32 binary inputs - modules DV2) |
| Number of interfaces SDI-12 | 1 |
| Number of interfaces RS-485 | 1 |
| Number of analogue recording channels | 16 |
| Number of binary recording channels | 40 |
| Number of output relays | 2 (other 12 relays in external modules DV2) |
| Interface for PC (laptop) connection | RS-232 |
| Temperature input | 3x PT100 (Digital Conecting Board DPD-II, -III) |
| Data memory | 2 MB (up to 450.000 values) |
| Weight | 2,6 kg without battery |
| Working temperature | -30 °C až +65 °C |
| Supply accumulator | gel maintanance free 12V / 9Ah (7,2Ah) |
| Dimension | 320mm x 215mm x 170mm |
| GSM/GPRS | 900/1800 Mhz, Class 12 (4Rx/4Tx, 5MAX) |
Monitoring and control units for water supply