M4016-RV telemetric station for the regulation valves control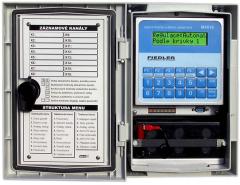 Controlling of pressure in a water supply system according to daily curves
Programmable regulator

Interventions to control via SMS
Warning and informative SMS sending
Monitoring with data transfering into a dispatching via GSM/GPRS network

Fully functional data logger

Analogue, pulse and binry inputs
Calculation of an instataneous and total flow

Device operating from the accumulator in a places without mains power supply

The unit M4016-RV has got:
a robust mechanical design thanks which the unit is able to work in humid and agresive environment
a display with keyboard,
abuild-in GSM modem including warning, informative, enquiry and controlling SMS message system,
functions for calculation of an instantaneous flow from OPTO or REED sensors
40-channel data logger with wide software support for measured data processing.

Control program of the unit M4016-RV has been extended by a programable proportional regulator. The configuration has a control panel which allows a manual controlling of a regulation vlave.


M4016-RV follows current development trends (in a field of regulations of water supply system) by:
number of uneversal recording channels,

remote data transmission,

richh software.
Minimalization of failures and water losses in a water supply system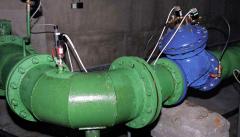 Controlling of pressure in the system (according to daily curves) minimalizes pressures during night minimal water inlets and this minimalises failures and water losses from pipelines. Some control curves can be assigned for weekdays and another curves for weekends. Requested value can be revised in proportion according to a current value of the second controlling value, e.g. according to instantaneous flow.
The unit M4016-RV can be also used for upkeeping of constant value of controlled variable, e.g. water level or flow. Moreover, you can control the size of instantaneous flow or water level thanks to daily curves.
Inputs and measuring channels
A special connecting board RV-02 contains semiconductor switching of solenoid valves, clips for pulses connexion of water meter and output clips for operation of a control panel. The connecting board also contains 6 classical DAv current inputs 4(0)-20 mA for connexion sensors of water level or pressure.
Mechanical design
The unit M4016-RV has a robust plastic enclosure with high protection IP66 thanks which the unit can be installed in a permanently humid environment such as in water storage tanks, water meter shafts or into a pumping stations and water treatment plant.
Základní parametry

| | |
| --- | --- |
| Parametr | Hodnota |
| info | value |
| info | value |
Monitoring and control units for water supply