Data hosting on the server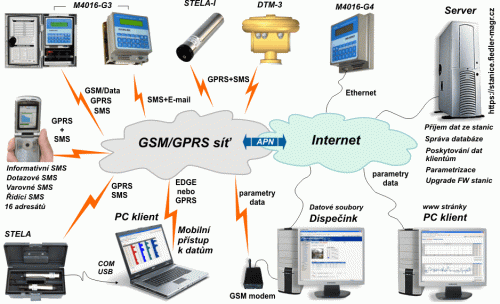 Our company provide data hosting on our secured server for users of telemetric stations. In this server is large data storage for measured and received data from stations: M4016, M4516, HYDRO-LOGGER H1. Data are accessible to authorised users from anywhere and anytime via standard web browser. Data hosting makes it possible to:
visualize data
data exports
remote control and parameterization of stations
This means that users do not need to create their own server, support operating and maintenance of it.
Brief description of data hosting:
Software receives and saves data from stations
Operating diaries of stations are transferred into the server database (texts of received and sent SMS messages, power failures, information about data transfers, etc.)
Separate telemetric stations can be matched into areas. One station can be contained in several areas. The area administrator has ability to create virtual stations with different measured channels (e.g. sums of flows)
Registered clients have access to data saved in the server database. Different access rights allow from data browsing to parameterization of stations
The main page of each telemetric station is configured by the user. This page can contain statistics, graphics processing of chosen channels, photography or technologic screen
Analogue and binary channels are displayed in detailed diagrams and tablets. The administrator can configure the type of displaying of separate channels
Statistic tablets display minimal/maximal measured values
All displayed data are easily exportable from the server into software Excel or Most
The system generates printable graphs and tablets for chosen time period
Parameterization can be done via the server, all changes or parameters are recorded on the server
Firmware of telemetric stations can be upgraded throughout the server. An actual version of firmware of all types of station and software MOST is free on our server (unlimited upgrade for authorised users)
Data collecting and processing