Stainless steel cabinet for outdoor installations
Stainless steel cabinet resistant to vandalism and climatic extremesBasic description
Robust stainless steel cabinet suitable especially for outdoor environments - stainless steel material does not show signs of aging in the weather, even after years, like plastic cabinets.

On the side, the cabinet has an adjacent GSM antenna and on the opposite side a semi-permeable air filter DA284 for balancing the atmospheric pressure inside the cabinet with the outdoor environment. The GSM antenna and the DA284 filter are interchangeable according to the location of the cabinet and the position of the nearest BTS.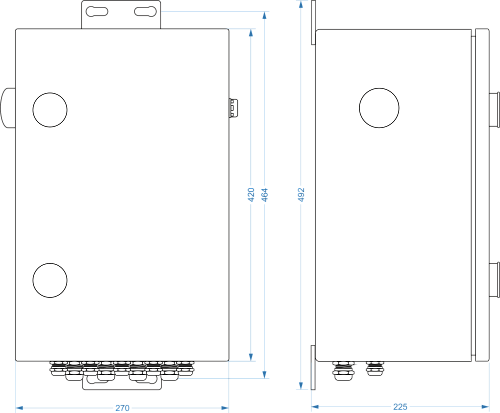 The cabinet has a high IP66 protection, which protects the built-in device from splashing water from all sides. For easy handling of the door, the cabinet has 2 handles or 2 lockable locks (single key for multiple cabinets).

Due to its size, the case is suitable for a 12V/45Ah battery.
Installation
The stainless steel cabinet has 2 handles in the middle of the rear wall, behind which it can be attached to a vertical wall and a mast or column.

The cabinet is mounted on a mast with a diameter of 50 to 60 mm using two stainless steel brackets 1,5" or 2". It is also possible to install the unit using stainless steel bandimex tapes.
Assembly preparation
The following data loggers and control telemetry units can be placed in the stainless steel cabinet with the help of special mounting brackets and holders:
M4016 - universal recording and control unit, flow meter
H1 - hydro logger
H3 - multichannel station
H7 - multichannel station
Q2 - level meter, flow meter
GSM Antenna
On the side of the cabinet there is a GSM antenna with a cable outlet and a gain of 0 dBi. In the case of a weak signal, it is possible to try to switch it with a pressure compensator, which is located on the opposite side of the housing.
Cable glands
The bottom of the cabinet is equipped with 9 metal cable glands (4x M20, 5x M16). Unused glands can be replaced with metal plugs.

Metal cable glands are located on the underside of the cabinet and have IP67 protection:
4x M20 gland (cable diameter 3 to 12 mm)
5x gland M16 (cable diameter 4 to 8 mm)
1x pressure compensator on the side of the cabinet
It is also possible to retrofit other necessary glands of the same type with an installation company when installing the unit.
Technical parameters
Cabinet dimensions: 470 x 320 x 230 mm
Material: stainless steel sheet 1.5 mm
Weight: 11.4 kg
Closing system: right-hand hinges, 2 lockable handles
rotection: IP66
Boxes and cabinets for telemetry and control units