Root zone waste water treatment plants
The telemetric station M4016-G3 is very suitable for monitoring of root zone WWTP because one station does not need charging by power supply unit. One station can monitor as many as 32 values and in regular intervals transfers data into the Internet server via GSM/GPRS build-in module. Also, it is suitable for permanent using in outdoor environment.
Telemetric station power-supply system
The great advantage of the station M4016 is very low current consumption for a whole measuring configuration. The station can work up to 6 months without battery recharging. If a small solar cell is added, the whole measuring system is fully independent and does not need any other recharging.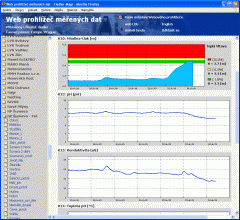 Measured variables
The station M4016-G3 continually records inflows and outfalls in the sewerage plant. The station can measure 16 flow rates. The great number of recording channels allows filling the sewerage plants by more electrochemical sensors (e.g. sensors of pH, oxidation reduction potential). Also, it is very easy to monitore water temperature (with conected converter TEP-08).
Data collecting and processing
Server dispatching system,data exports, charts printing and other useful functions are described in the chapter "Data collecting and processing" (in the main menu of solutions).