SCHNEIDER cabinet for data logger and larger battery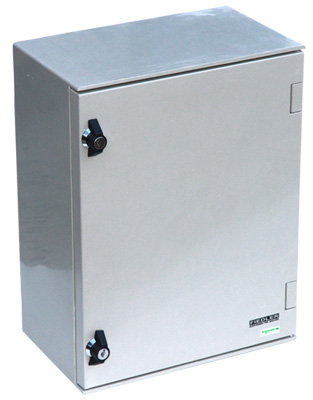 Basic description
Universal plastic case suitable for indoor and outdoor environments (polyester reinforced with glass fibers).

The cabinet has a high IP66 protection, which protects the built-in device from splashing water from all sides. For easy handling of the door, the cabinet has 2 handles or 2 lockable locks (single key for multiple cabinets).

The number of cable glands on the underside of the cabinet is selectable according to the expected number of connecting cables. Usually, the SCHNEIDER cabinet is supplied with 3, 5, 7 or 9 plastic glands of sizes M16 and M20.

To balance the atmospheric pressure inside the cabinet with the outdoor environment, the cabinet is equipped with a semi-permeable air filter DA284.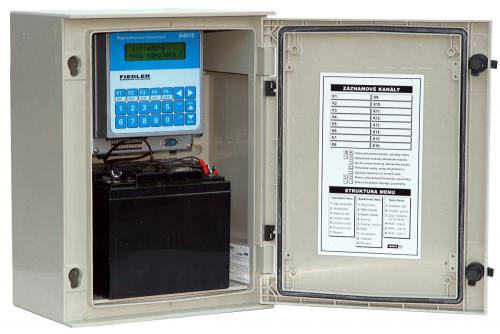 Due to its size, the cabinet is suitable for a battery up to 12V / 45 Ah.
Installation
The cabinet is mounted on a vertical wall or on a special stand ST3 using 4 holes located in the corners of the cabinet, which are outside the sealed interior space.
Cabinet dimensions and marked mounting holes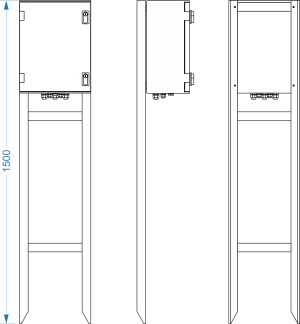 ST3 stand with SCHNEIDER cabinet
The ST3 stand is a 2 m high weldment made of iron L profiles, provided with a hot-dip galvanized surface treatment. The stand is as wide as the SCHNEIDER cabinet, which is placed in its upper part. The stand can be buried in the ground, it can be screwed to the concrete plinth or it can be attached to the railing with brackets.

The cabinet is attached to the mast or column using two DSS-2 brackets (not included in the delivery of the cabinet) and bandimex stainless steel straps.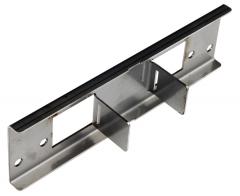 Mounting screws are also supplied with the DSS-2 bracket.
Cable glands
Plastic cable glands are located on the bottom of the cabinet and have IP67 protection:
3x gland M20 (cable diameter 3 to 12 mm)
2x M16 gland (cable diameter 4 to 8 mm)
1x pressure compensator
Schneider enclosures equipped with a different number of cable glands are available on request. Additional fitting of other glands of the same type is also permitted.
Assembly preparation
The following data loggers and telemetry control units can be placed in the SCHNEIDER cabinet using special mounting brackets and holders:
M4016 - universal recording and control unit, flow meter
H1 - hydro logger
H3 - multichannel station
H7 - multichannel station
Q2 - level meter, flow meter
Technical parameters
Cabinet dimensions: 400 x 300 x 200 mm (h x w x d)
Material: Polyester reinforced with glass fibers
Weight: 4.70 kg
Thermal resistance: long-term stress up to 70 ° C
Protection: IP66
Boxes and cabinets for telemetry and control units