Cabinet stands


ST2 and ST3 stands are designed for quick installation of ARIA and SCHNEIDER plastic cabinets in the field.

The ST2 stand can be used for outdoor installation of the ARIA32 cabinet, and the ST3 stand for the larger SCHNEIDER cabinet.

The mast type STO-MET-02 is intended for small meteorological stations in ARIA32 cabinets, for which a concrete concrete concrete tile can also be ordered. The mast is fixed to the concrete tile with dowels and stainless steel screws.

The mast and both stands are protected against the effects of the weather by hot-dip galvanizing.

The cabinets are attached to the ST2 and ST3 stands using the supplied 4 M5x30 screws. M5 threads are prepared in stands / masts. The mounting holes for the screws are only accessible when the cabinet door is open, and because the screw heads are hidden in the cabinet, they make it impossible to disassemble the cabinet without forcibly opening it.

ST2 stand with ARIA32 cabinet

ST3 stand with SCHNEIDER cabinet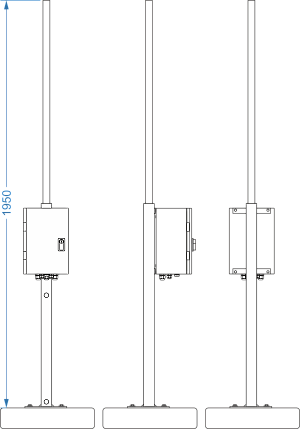 STO-MET-02 mast with ARIA32 cabinet