RVT12, RVT13 Accurate humidity sensors

Characteristics of hygrometers RVT12, RVT13

Hygrometers include unique HygroClip2 measuring probes with ROTRONIC HYGROMER IN-1® sensor
Exceptional and unrivaled accuracy of the hygrometer in the entire measuring range 0 ... 100% RH, -40 ... 60 ° C
Accuracy: ± 0.8% RH (± 0.5% RH)
Temperature measurement error ± 0.1 ° C
Reproducibility <0.02% RH
Unique AirChip 3000 technology, internal electronic compensation at up to 30,000 points
Hygrometer self-diagnostics and automatic deviation correction
Long-term stability better than 1% RH / year
Two standard voltage outputs 0..1 V for relative humidity and air temperature (RVT12 sensors) or RS485 serial interface (RVT13)
The calibration coefficients stored in the probe and the connector connection allow easy interchangeability of the probes in the sensor
Separately replaceable polyethylene probe filter
Basic description of hygrometers
The RVT12 and RVT13 (/ RK) relative humidity and air temperature sensors use the highly reliable, accurate and stable HydroClip2 probe from the Swiss company ROTRONIC for measurement.
The sophisticated electronics contained in the hygrometer are based on AirChip 3000 technology and in combination with modern sensor technology and high integration, these hygrometers achieve excellent accuracy and long-term stability (it does not exceed 1% RH / year).
The basis of the RVT12, RVT12/RK hygrometers is the HygroClip2 probe type HC2-S3. The probe is complemented by a 2 m (5 m) long connecting cable with one free end. the hygrometer has two voltage analog outputs 0..1 V (0..100% RH; -40 ... + 60 °C) and requires an external supply voltage of 3.3 V for proper operation. The RVT12/RK hygrometer is supplemented by a radiation cover RK5 (RK7).

The RVT13, RVT13/RK hygrometers contain the same type of probe (HC2-S3) and are intended for connection to FIEDLER telemetry and recording units via the RS485 digital interface, and the sensors are also powered from these units (5 to 14 VDC). The interface used allows you to connect more hygrometers to one recording station, even at a distance of up to 500 m.
Application of hygrometers RVT12, RVT13
Relative humidity and air temperature sensors RVT12 or RVT13 have a wide application:
Meteorological stations, monitoring of biosystems
Process monitoring in laboratories
Climatic chambers and drying plants
Universities, development and research workplaces
Chemical and pharmaceutical industry
Intelligent building management
Museums, depositories and monuments
In addition, the hygrometers of the RVT13/RK series are equipped with a robust radiation cover RK5 (RK7) and are designed mainly for meteorological stations equipped with M4016, STELA, H1, H2 or H7 units, with which they communicate via RS485 under FINET or Modbus RTU protocols.
Measured data from these stations are automatically transferred (via GSM/GRS network) to a secure database on the Internet and accessible to an authorized user via a standard web browser (graphs, spreadsheets, data exports to the client's PC, reports and reports, ...).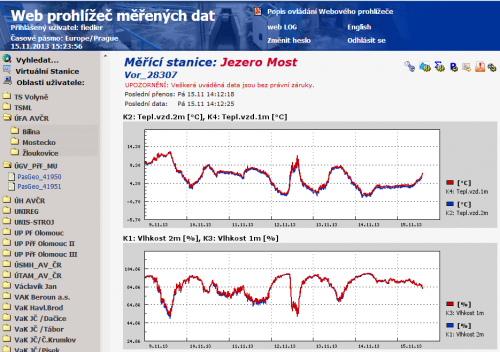 HygroCllip2 probes
The HygroClip2 probes used in hygrometers are manufactured in various mechanical designs and are also optimized in terms of the sensor used for the specific method of their use: chemically resistant, mechanically resistant, fast-response, temperature-tolerant sensors, etc.
The probes themselves can also be connected to a PC via an active connector adapter and UART interface (ASCI) and perform their diagnostics, single-point or multi-point calibration, change measuring ranges and read statistical values or continuously calculated dew point. For this purpose, the manufacturer offers calibration standards (10%, 35% and 80% RH) including the calibration jig itself.
Basic technical parameters
| | |
| --- | --- |
| Parameter | Value |
| Measuring probe | HygroClip2 typ HC2-S3 |
| Sensor type | ROTRONIC HYGROMER ® IN-1, Pt100 třída A |
| Humidity measuring range | 0 to 100 % RV |
| Temperature measuring range | -50 to 100°C |
| Long-term temperature stability | better than1% RV; 0,1°C /rok |
| Standard accuracy | ±0,8 % RV / ±0,1°C; 23°C ±5 K |
| Increased accuracy (HS2-S3H probe) | ±0,5 % RV / ±0,1°C; 23°C ±5 K |
| Measurement reproducibility | 0,02 %RV / 0,01°C |
| Response time | < 15 sec (without filter) |
| Probe replacement filter | filter with polyethylene insert, 40 μm |
| Probe operating temperature | 50 to 100°C, 0 to 100 % RV |
| Probe dimensions | probe diameter 15 mm, probe length 92 mm |
| Sensor size ../RK7 | 7 shielding lamellas, diameter 145 mm, height 110 mm |
| Output signal SHT12/RK7 | 2x programmable output 0 to 1 V |
| Output signal SHT13/RK7 | RS485 (FINET protocol, Modbus RTU) |
| SHT12/RK7 cable connection | M12 connector, 2m, 5m or 10m cable, free termination |
| SHT13/RK7 cable connection | M12 connector, 2m, 5m or 10m cable, free termination |
| Sensor power supply | 3,3 VDC / 5 mA (SHT12), 4,5 .. 14 VDC / 8 mA (SHT13) |
| Statistical functions (SHT13 only) | MIN. MAX, average |
| Psychrometric calculations (SHT13 only) | Dew point |
Temperature, humidity and air pressure sensors