CYBLE - pulse transmitters for water meters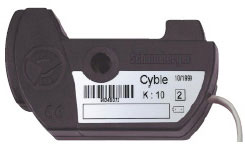 CYBLE pulse transmitters are available in two versions:
CYBLE NF
One pulse output with monitoring of random backflows.
The pulse output is active only with a positive flow, the return flow is stored in the memory, and the pulse output is activated again after balancing the volume of the return flow - identical state of the remote counter and the water meter counter. This function is limited to 512 revolutions of the counter, which aims to control random backflows. Choice of six pulse numbers.
CYBLE NF + VF
Two pulse outputs, signaling the direction of water flow - allows accurate monitoring of two-way water flow, control of two devices, etc.
NF function output dtto CYBLE NF
HF output - output active in both directions of flow

DIR output - flow direction signaling
Základní technické parametry
Verze
Jeden výstup
Dva výstupy
NF nízkofrekvenční výstup
x
x
VF vysokofrekvenční výstup
x
DIR směrový výstup
x
Typ výstupu
NPN otevřený kolektor
Spínaný proud
max. 100mA; 30V; 1W
Délka pulzu
NF výstup 70 ms (K=1 35 ms); VF výstup 35 ms
Napájení
baterie, životnost 12 let, nevyměnitelná
Délka kabelu
5 metrů
Odpor při sepnutí
≤ 60Ω
≤ 30Ω
Odpor při odpojení
≥20Ω
≥20Ω
Pracovní teplota
0-55°C
Krytí

IP 681
Pulzní čidla pro jednotlivé typy vodoměrů
Typ vodoměru
DN (mm)
VF výstup
NF výstup (=VF výstup x K)
K 1
K 2,5
K 10
K 25
K 100
K 1000
Flodis
15-32
1L
1L
2,5L
10L
25L
100L
1m3
Flostar-M
40-100
10L
10L
25L
100L
250L
1m3
10m3