Equipment for pumping tests of boreholes and wells
Hydrodynamic pumping and rising tests are used to verify the yield of drilled wells. The set enables the automatic performance of these hydrodynamic tests autonomously and for a long time, even without the requirement for the presence of an operator at the equipment.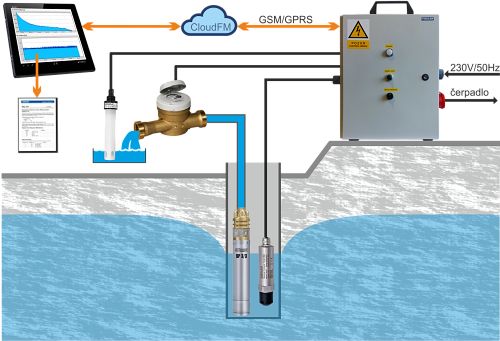 Constant flow or level control
The control recording unit of the assembly continuously measures the level in the well using an immersion level sensor and regulates the pump speed in the well via a frequency converter to ensure either a constant, preset flow independent of the current level in the well or maintain such a flow with pump speed pumping to maintain a constant level.
Data logging and remote access
The measured values of level and flow are recorded in the memory of the device, which sends them at set intervals via GSM / GPRS data transfer to the server for archiving, display and further processing, eg in a table in CSV format (Excel). The data on the server can be viewed with a common Internet browser on a PC or mobile phone.

The device can operate in automatic or manual mode.

The measured data are displayed on the color graphic touch screen of the measuring station. The device can also be set and controlled via the touch screen.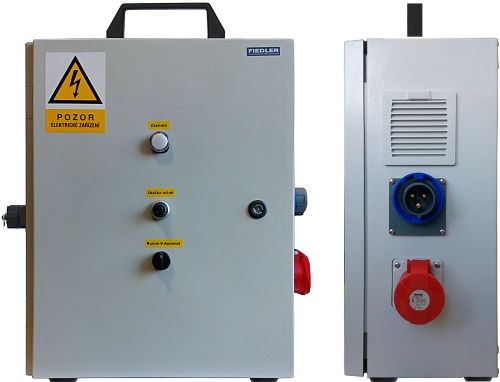 Composition of the basic assembly
Switchboard equipped with: H3-G-TB3 control unit, ATV320U15M2C frequency converter, 230V / 16A connection for power cable, 3x400V / 16A socket for 3x400V pump, 1.5 kW, control elements for manual control, connectors for level probe and water meter connection
Water meter FLODIS 2.5-15-165-3 / 4 (Qn = 2.5 m3 / hour, DN 15 L = 165 mm, G ¾)
Inductive speed sensor of water meter CYBLE NF 001, one output, K = 1
Immersion level sensor TSH37, range 0-40 m above sea level, cable 50 m
Hinge for mounting the level sensor
O2 Standard CZ SIM card - long-term loan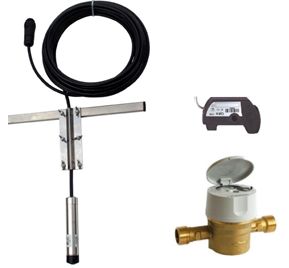 The measuring range of the level sensor, the cable length and the type of water meter can be changed within the ordering process according to the customer's requirements.