SPA500 ultrasonic level meters

The integrated ultrasonic level meters of the SPA series represent an affordable and reliable level measurement in sumps, tanks and in open streams. SPA-5A0-4 sensors can also be used to measure flow in open troughs and overflows. Thanks to the high degree of protection IP 68, the level meter can be flooded without damage. The small beam angle of the level meters 5-7 ° ensures reliable level measurement even in narrow spaces.
The electrical connection consists of a 5 m long cable with the possibility of a length of up to 30 m in the standard version.
Characteristic properties
Level measurement error less than 1%
Supply voltage 11.8… 36 VDC
Operating temperature -30… 80 ° C
Measuring ranges 4, 6, 8, 10, 15, 25 m
Degree of protection IP 68

Production line:
EasyTREK SPA-5A0-4 with range: 0,15…3 m
EasyTREK SPA-590-4 with range: 0,18…5 m
EasyTREK SPA-580-4 with range: 0,20…8 m
EasyTREK SPA-570-4 with range: 0,25...10 m
EasyTREK SPA-560-4 with range: 0,25…12 m
EasyTREK SPA-540-4 with range: 0,35…18 m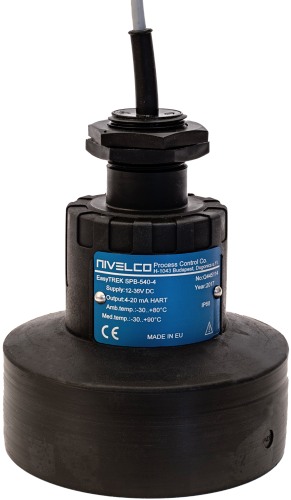 Sensor holders
There are several types of stainless steel holders available for ultrasonic level sensors for easy and quick installation of the sensor