Control technology of waste water treatment plants (WWTP)
The unit M4016-G3, which controls WWTP, saves purchase and operating costs. The station is a combination of a controlling automat, multichannel flow-meter, telemetric measuring station and system for warning SMS sending. All of this is only in one device which is designed for operating in permanently wet environment.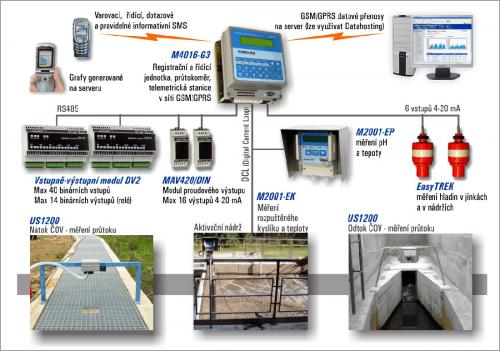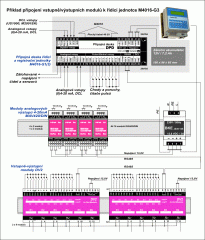 Software supports functions which are necessary for WWTP operating. Here is a list of some of them:
Calculation of an instantaneous flow and the flow measured from the level in the hydrometric profile
Pumps controlling according to the level in tanks
Blowers control according to the value of dissolved oxygen
Monitoring of pumps and other engines faults with possibility of sending warning SMS
Archiving and transferring data.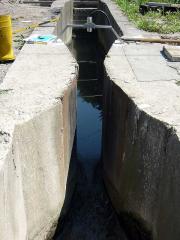 For small WWTP are usually enough one M4016-G3 unit which has 8 binary, 6 analogue inputs and 2 relays. The unit can be expanded about two O/I modules DV and up to 16 modules with current output 4-20mA.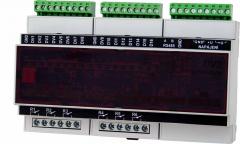 Each module DV2 has 16 binary inputs and 6 relay outputs. Up to 12 relays with switching contacts are used for the controlling technology. Relays are placed in external I/O module DV2 which is fixed on DIN bar. Communications between DV2 module and M4016-G3 unit go through a serial interface RS485. The relay programming is done by parameterization of M4016-G3 unit.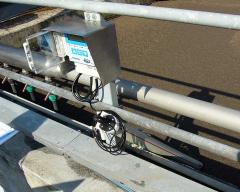 The design and software of unit allow to measure and record:
6 signals from sensors with power output 4-20mA
Other signals from intelligent sensing heads and sensors which are joinable via the serial interface RS485
40 binary values (pumps working or failure, etc.).
All functions of M4016-G3 were kept. Moreover, our customers can use data hosting, watch graphs of analogue signals (flows, levels, pH, temperatures,...) on web viewer, export data into Excel, print monthly reports and many other functions.