OPTO3 pulse signal splitter
The OPTO3 galvanically isolated pulse splitter has one pulse input for connecting a signal from a water meter or electricity meter sensor and three galvanically isolated pulse outputs.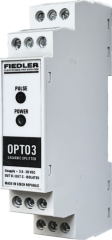 Characteristics:
The input pulse signal is split into three mutually separated outputs A, B and C
Output-A: open collector (Umax: 28 VDC, Imax: 0.2 A)
Output-B, Output-C: galvanically isolated outputs, bidirectional solid-state relay (Umax: 28 V, Imax: 50 mA, Rmax: 10 Ω)
Outputs with shaping and short pulse extension function, suppression of oscillations on the input signal
Input adjustable for both open-collector and current/voltage output sensors
Selectable supply voltage size of connected sensor (Usupply or 3.3V)
Surge protection for inputs and outputs
Very low quiescent current consumption for battery-powered applications (Iq < 10 μA when signal LEDs are turned off)
Supply voltage range of 3.5 to 28 VDC
DIN rail mounting 35 mm, 17.5 mm wide
Compatible with FIEDLER AMS devices
Basic description:
INPUT:
Both open-collector pulse transducers (OPTO) and transducers with mechanical or solid-state switching contacts (REED) can be connected to the IN input. By rebuilding the PR2 jumper, accessible by removing the top cover of the instrument, transducers with current or voltage output can also be connected to the IN input and powered from the instrument.
OUT-A, OUT-B and OUT-C outputs:
The three pulse outputs OUT-A, OUT-B and OUT-C can be used for technology control (dosing pumps) or data acquisition (data loggers, telemetry). In order to suppress ground loops and to increase reliable operation, the pulse outputs OUT-B and OUT-C are galvanically isolated from each other and from the supply voltage of the hub and the pulse output OUT-A. The OUT-A output is an open collector type and consists of a switching transistor connected to the negative pole of the supply voltage. The OUT-B and OUT-C outputs contain a semiconductor switching element with no polarity.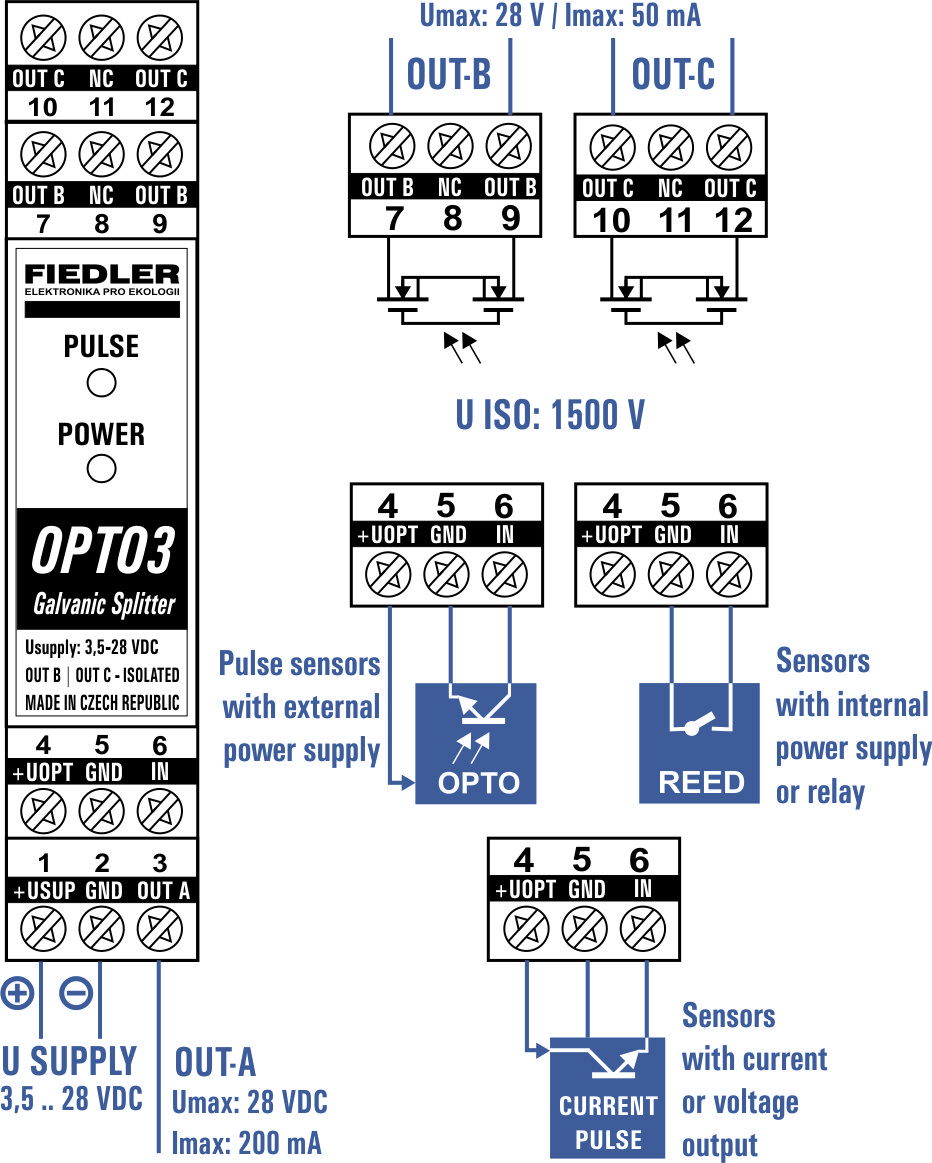 Technical parameters
PULSE input, PR2-A: active state = switching of IN input with GND terminal; Rmax: 1000 Ω; Imax: 1.5 mA
PULSE input, PR2-B: active state = input current > 1.5 mA; Umin: 3.0 VDC; Umax: 28 VDC; hysteresis: 0.2 mA
Pulse rate: max 25 Hz; minimum pulse duration 20 ms (shorter pulses are suppressed)
OUT-A output: transistor switch output to negative terminal of GND supply voltage for connection to datalogger, telemetry or signaling circuit; Umax: 28 VDC; Imax: 200 mA; Rmax: 100 mΩ
OUT-B output: solid-state bidirectional relay; Rmax: 10 Ω; Umax: 28 VDC; Imax: 50 mA; galvanic isolation of OUT-B output from supply voltage and OUT-C output; isolation voltage 1500 V
OUT-C output: solid-state bidirectional relay; Rmax: 10 Ω; Umax 28 VDC; Imax: 50 mA; galvanic isolation of OUT-C output from supply voltage and OUT-B output; isolation voltage 1500 V
External supply voltage Usupply: 3.5 to 28 VDC, positive supply terminal: +USUP, negative supply terminal: GND
Current consumption: PR3-A (signal LEDs on), idle state: max 3 mA, pulse duration: max 5 mA, PR3-B (signal LEDs off), idle state: max 10 µA, pulse duration: max 2 mA
Supply voltage Uopto (power supply for connected external pulse sensor): PR1-A: +UOPT= +USUP; PR1-B: +UOPT= 3.3 VDC / Imax: 25 mA
Connection terminals: screw terminals for conductors 0.15 to 2.5 mm2
Mechanical dimensions (l x w x h): 90 mm x 17.5 mm x 56.4 mm
Mounting method: DIN rail 35 mm
Weight: 75 g
Operating and storage temperature: -30 °C to +80 °C
Degree of protection: IP20