System for irrigation of golf-courses, vineyards, parks and ornamental gardens
A special kind of telemetric station M4016-RZ is developed for control of irrigation valves in large areas. Up to 32 irrigation valves are controlled by switch modules SPZ which are placed closely to valves. Modules SPZ communicate with the station M4016-RZ via serial interface RS485. Modules are charged and controlled by a cable of serial interface RS485.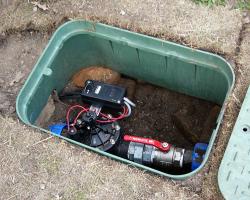 An example can be a configuration of irrigation control in Lednice Park. This configuration was developed as a complex system with monitoring of water-pumps condition and capacity of soil moisture in different parts of park. Surely, data are transferred into the server database; system parameterisation via the Internet and warning SMS messages system.
Our biggest installation we did in a vineyard Hranice in Moravia. This installation contains 4 stations M4016-RZ which control nearly 100 irrigation valves. All of this equipment is charged only by solar panels.