STELA - telemetry station, GSM/GPRS datalogger
Robust telemetry station with long operating time to places without mains supply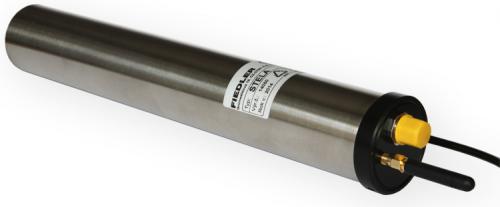 Telemetry stations - GSM / GPRS dataloggers STELA 3rd generation are due to their high mechanical resistance and very long period of operation without replacement of power batteries suitable for measurement in underground sewer networks, transfer shafts, reservoirs and everywhere where it is not possible to connect measuring station - datalogger to the external power supply.
Telemetry station - GSM / GPRS datalogger meets high requirements for battery-powered devices mainly due to its unique design, which in addition to its own electronics with very low current consumption contains 2 to 4 lithium batteries with a maximum capacity of more than 50 Ah. At the same time, these batteries have a very small self-discharge and therefore can power the telemetry station with connected sensors for more than 10 years with daily transmission of measured data to the database to the server via a built-in GSM / GPRS modem.
Extensive monitoring networks independent of external supply voltage can be created from STELA-3 telemetry stations and can also be combined into one system with more sophisticated telemetry stations H7, M4016, or with small DataLoggers H1 and H40.
Characteristic properties of GSM / GPRS datalogger STELA
Operating time up to 10 years without battery replacement
Pulse inputs for REED and OPTO flow sensors
Current inputs for pressure and level sensors
RS485 interface for connection of many external sensors
GSM / GPRS module for regular data transfers to a server on the Internet (telemetry station)
Integrated system of warning and info SMS messages
Modernly designed electronics, economical RISC microprocessor, rich software
Robust metal case with high coverage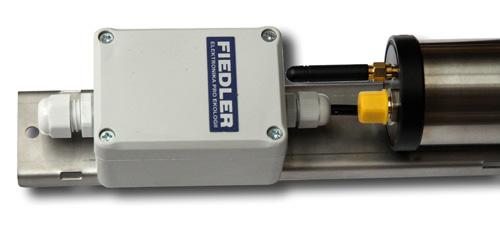 Typical use
Monitoring of instantaneous and minimum night flows, including balances, remote readings of water meters.
Continuous monitoring of flows, pressures and levels in measuring shafts or in reservoirs.
Groundwater level monitoring.
Construction of a network of rain gauge and limnographic stations.
Technology monitoring or object surveillance.
The compact design allows the station to be placed in very small spaces and thus better protect it from vandals.
Mechanical design
he STELA-3 telemetry station combines a datalogger and a GSM / GPRS communication module in one longer stainless steel cylindrical housing with a diameter of 50 mm with one common power supply. There is either a variant with two power cells or with four cells (longer mechanical housing; longer battery life when powering more sensors, higher measurement frequency or more data sessions to the server).
The case has an eye at its end, behind which it is possible to hang the STELA datalogger or lock it with a lock. A stainless steel holder with a mounting box in which the sensors are connected is supplied as standard with the station.
Datahosting
The STELA-3 telemetry station uses data hosting set up on the manufacturer's server, which was originally intended for more sophisticated M4016 telemetry stations. The user does not have to set up his own server or ensure its operation and maintenance.
Authorized users can access the data stored on the server at any time via a standard web browser.
In addition to graphical and tabular visualization, the server also enables statistical calculations of balance flows, search for limit values and exports of data in several formats from a database to evaluation or dispatching programs and other functions.
Software
Each recording channel of the STELA measuring station can be assigned its specific name (outflow VDJ, ...), number of decimal places for measurement and archiving, units, measuring method and many other parameters. The archiving interval can be set separately for each channel. STELA-3 supports the transition to more frequent recording of selected quantities after exceeding the set limits (limit alarm) or after a quick change of value (gradient alarm).
The station allows the calculation of the instantaneous flow from the pulses of the water meter (REED and OPTO sensors). It can monitor daily and total flow volumes since installation. There are calculation functions over the measuring channels (sum, moving sum or average, difference, trend, correction with a 2nd order polynomial) with output to a separate channel and to SMS.

Built-in GSM/GPRS module
It ensures the implementation of remote communication of the telemetry station with the server (user). It enables the transfer of measured data to the database to the server at set times or during alarms and the sending of warning or informative SMS messages. The possibility of parameterizing the telemetry station and upgrading the firmware remotely via a Web browser is also very useful.
The STELA-3 station is supplied with an external magnetic antenna with a 4 m long cable or a short rod antenna.
Data processing on the server - data hosting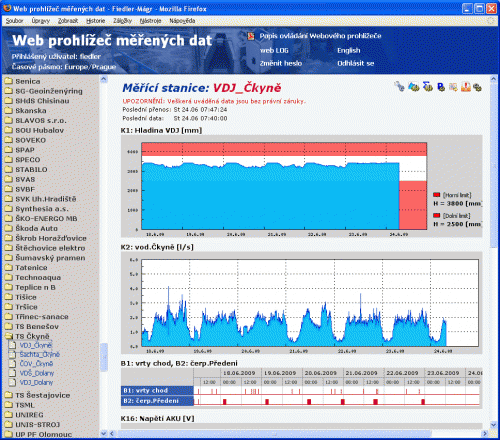 In addition to a tabular display of measured values, the server's rich software also enables their graphical display, averaging, limit value search, flow calculation, printing of measured data in the form of a report, export to a text file or via SQL server, e-mail distribution and many other functions. Their number is constantly increasing in response to the wishes of many users of data hosting services.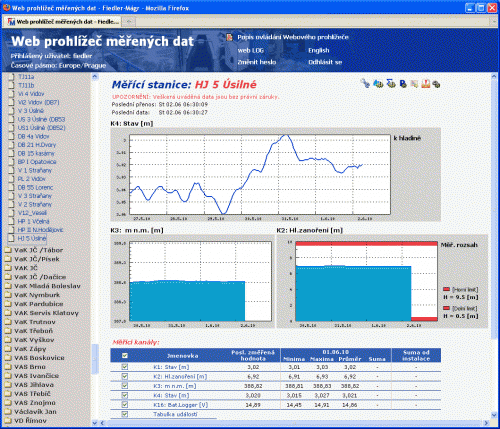 Example of use: The STELA telemetry station located in the wellhead monitors the level in the well, its altitude and at the same time monitors the measuring range of the immersion pressure level sensor. When the level in the borehole drops to the lower red band marked 0.5 m, the station sends a warning SMS alerting you to the possibility of exposing the level sensor. Conversely, when the level rises to the upper limit of the measuring range, a warning SMS warns you of the possibility of exceeding the permitted measuring range of the level sensor.
Technical parameters
| | |
| --- | --- |
| Parameter | Value |
| Number of analog inputs | 2 current inputs (0) 4-20 mA |
| Number of pulse-binary inputs | 2 pulse-binary inputs |
| Number of analog recording channels | 8 measuring, 7 control |
| Number of binary recording channels | 8 |
| Interface RS485 | 1 |
| Data memory | 2 MB (až 300.000 value) |
| Weight | 1,3 kg (1,8 kg) |
| Operating temperature | -30 °C až +65 °C |
| Power batteries | Lithium non-rechargeable 3.6V/12Ah, 2 (4) pcs |
| Dimensions | cylindrical housing 50 mm x 350 mm (500 mm) |
| GSM/GPRS | 900/1800 Mhz, Class 12 (4Rx/4Tx, 5MAX) |
Small telemetric stations and data loggers