13,8V/30W DELTA power supply
The power supply of a higher quality class is suitable for powering telemetry and control units type H1 to H7, Q2, E2, M4016, M2001 and other measuring sets with the required supply voltage in the range of 12 to 14VDC.
The power supply enables direct charging in the station of the built-in lead gel maintenance-free battery 12V up to a capacity of up to 9Ah. The output voltage of the power supply is set to 13.8VDC and this voltage allows you to connect the battery to the power supply permanently without the risk of overcharging the battery.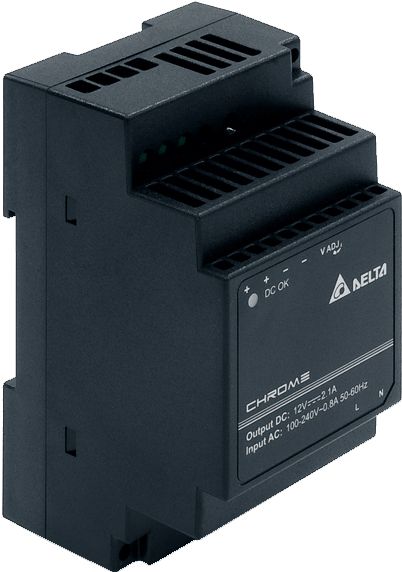 The maximum current load of the 1.8A power supply allows to realize even larger measuring sets supplemented, for example, by electrochemical measurement or by input-output units DV2 and other external modules connected to one power supply.
Safety and working conditions
The DELTA power supply is a protection class II device. Therefore, the power supply does not have a protective terminal and protection against electric shock is provided by double insulation. This means that no grounding is required, resulting in a low leakage current.
The source is able to work with input voltage in a wide range of 90-264 VAC and in a wide temperature range from -25 °C to 71 ° C.
The power supply is certified according to safety standards according to IEC / EN / UL 60950-1 Information Technology Equipment (ITE) and UL 508 Industrial Control Equipment (ICE). The source also fully complies with the RoHS directive 2011/65 / EU on environmental protection.
Installation notes
The mains supply must be switched off before connecting or disconnecting the power supply.
For good heat dissipation, it is necessary to ensure 50 mm of free space above and below the source and a 25 mm distance from other devices on the DIN rail.
Dangerous voltages may still be present at the input terminals for at least 5 minutes after the mains supply has been switched off.
The power supply must be installed in a device with at least IP54 protection.
Technical parameters
Single-phase power supply for DIN rail
Output voltage: 13,8VDC
Production tolerance of output voltage: ± 2%
Output voltage regulation: 11,5..14,5VDC
Output current: 1,8A
Output power: 30W
Rated AC input voltage: 100..240VAC (90..264VAC)
Current consumption at 230V AC: <0,60A
Efficiency at 230 VAC:> 85%
Integrated protections: Overload, short circuit, overvoltage
MTBF:> 500,000 hours at 35 °C (50% at 40 °C)
Working temperature: -25 °C to +71 °C
Weight: 0,14kg
Dimensions: (H x W x D): 91 x 53 x 55.6mm
Insulation class II, double insulation, SELV, ROHS