C8 - Modular control and recording unit

Basic description
The C8 telemetry modular unit is a modern control element with a large number of measuring analog and binary inputs and outputs.
The unit is designed primarily for control of technological processes in water supply and therefore its software supports flow measurement using pulses and calculation from consumption equations, control of pumps and blowers, including outages, contains integrated PID controllers and allows data hosting on the server, including full remote unit parameterization via a web browser.
Characteristics
120 analog recording channels and 240 binary recording channels

120 user-adjustable operating parameters

Measurement and data recording in the interval from 1 min to 24 h

Data memory for 1 million measured values

Connection of various types of sensors and probes (current and pulse inputs, 4 RS485 buses - MODBUS RTU and FINE, ...)

Controlled power supply of connected sensors in the range of 6 V to 15 V, 2 separate branches for setting different supply voltages

Encrypted data transmissions to the server via internal GSM / GPRS or WiFi module

System of warning, informative and control SMS

Backup power supply from the internal, automatically rechargeable battery

The modular concept allows easy expansion of the number of inputs and outputs, a common data bus in a DIN rail

Self-diagnostics connected to sending SMS alerts and data server

Complete parameterization and FW upgrade remotely via server or locally via USB
Tailor-made set
The modular concept of the control unit allows its easy adaptation to the controlled application of adding individual modules according to the requirements for the number and type of connected input and output signals.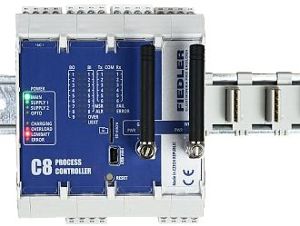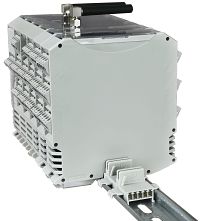 Thanks to the data bus located directly in the DIN rail, there is no need for lengthy connection of individual expansion modules with the unit itself. The increase in the operational reliability of such a measuring set thanks to the short and shielded bus is not negligible either.
An overview of the individual expansion modules and their basic parameters, including the C8 unit itself, are given in the enclosed catalog sheet.
Monitoring and control units for water supply