Satellite data collecting from meteorological stations in places without GPRS signal coverage
Several meteorological stations are installed in places where is no GSM signal coverage.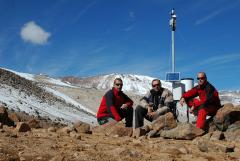 Some of them are placed in high elevation above sea level – for example in Kyrgysztan Mountains or in Peru Mountains in 5050 meters above sea level. These stations use their great memory capacity which saves data from 2-3 years.
For this kind of applications can be useful to equip meteorological stations M4016 with satellite communication. Then data are transferred into the database in the server via satelloids. We developed a version of station M4016 which is equipped with a satellite module used for data transferring via the network of satelloids Iridium. We have chosen this network because of its:
signal covers all continents
low purchase costs of a satelloid module and antenna
low operating costs.
Stations use a special block of data memory in which data are compressed, saved and consequently sent into the Internet in regular intervals. Thanks to this modifications, the operating expenses are monthly less than 40USD (including the tariff price of station integration into the network of satelloides).
M4016 stations are designed for logging into satelloides network and transferring measured data from specific time period into the server database. Communication is one-sided, so it is not possible to do a parameterisation of the station via the Internet.