Flow processing into charts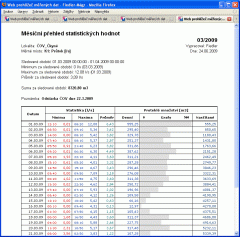 Automatically creating of monthly charts is a very useful and frequently used function of data hosting. Charts contain daily flows, daily minimal and maximal values, etc. The user gets a full report about an annual flow by printing 12 months statistics.
Charts configuration for printing: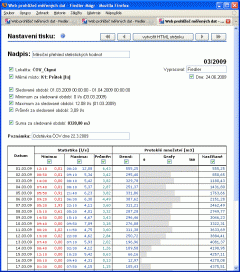 In the station´s main page choose the requested month in the area of the statistic
Press the button "Tablets"
Check boxes for choosing entries of a head and column in the chart
Press the button " Balancing tablet printing".
Four buttons (previous/next calendar month, previous/next chosen period) are used for moving between displayed time periods. The web browser remembers the last situation. The configuration of the printing is intuitive.
The page is generated by the button "Create HTML page". The new page will open, than press "File" and "Printing" for printing.