Maintenance-free gel battery 12V/7Ah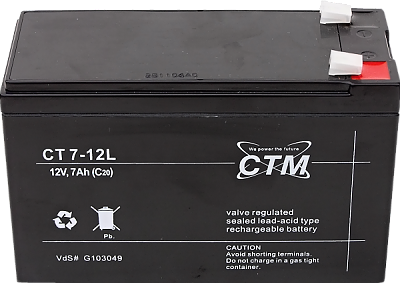 Note: The 12V / 7Ah battery offered in the price list may not correspond to the brand and type of battery shown in the picture and in the enclosed data sheet.
The maintenance-free gel battery 12V with a capacity of 7 Ah is suitable for back-up power supply of FIEDLER AMS units, which are normally supplied from a mains voltage source of 13.8 during normal operation.

This battery is not suitable for applications where either the external mains supply is permanently missing or where it is present only for part of the day (mains supply connected to the night lighting distribution).

It is not recommended to use the 12V / 7Ah battery even for installations with a solar photovoltaic panel, as the low capacity of this battery can be a fault in long-term adverse weather conditions.

In both cases, it is recommended to use a more powerful 12V / 9Ah battery.

Due to its dimensions, the battery is suitable for placement in the lower part of the ARIA32 cabinet.
Charging the battery from an AC adapter
Some terminal boards of FIEDLER AMS units contain electronic circuits which, in addition to the unit's own power supply, also allow the connected backup battery to be charged with a voltage of 13.5 to 13.7V.

Units with TB2 connection board require a 24V supply voltage and contain their own charging regulator, which ensures the required optimal charging voltage of 13.5 to 13.8 depending on the ambient temperature.

The TB3 connection board, powered directly from the 230 VAC mains voltage, works in a similar way.

On the other hand, these are units with simple connection boards of the DPD-I to DPD-V type, which require the supply of an external voltage of 13.8 V for correct charging of the connected battery.

A 12V battery with a capacity of 7Ah or 9Ah requires a 13.8V power supply with a power of at least 30W (type DRC-13.8V / 30W). 12V / 28Ah or 12V / 42Ah batteries require a more powerful power supply DRC-13.8V / 60W or DRC-13.8V / 100W), depending on the consumption of the measuring set itself.
Basic technical parameters
Nominal voltage: 12 V
Nominal capacity: 7Ah
Typical lifespan: 5 years
Operating temperature range: -20° C ... + 50° C
Continuous charging voltage: 13.7V at 15-25° C
Terminal: 2x faston 6.3 mm
Dimensions: 151 x 65 x 94/99 mm
Weight: 2.4 kg
Gel accumulators, batteries and backup sources