Software MOST
MOST (MOnitoring STation) is easy manageable software for parameterization of stations M4016, STELA and HYDRO-LOGGER H1.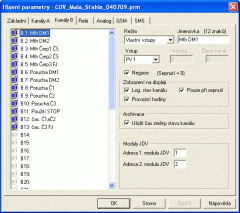 Software displays actual measured data and binary inputs/outputs. Data reading is possible to do via a cable from connected station, export of data file from the server or by dial-up.
Besides graphic and tables displaying, software offers:
Averaging of measured data
Choosing of data per specific time period
Searching of limiting values
Calculation of balance
Printing of data
Automatic monthly structuring
If you buy a licence number, you can get an actual version of software MOST in section "Support & Download". Other way, you can download demo of our software (this version does not support communication with stations).
SW MOST is not included in the price of stations.
Data collecting and processing