M2001-E Display and calibration unit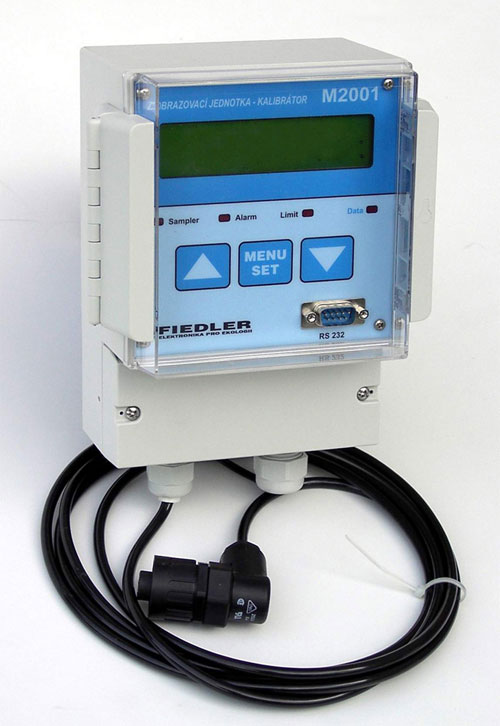 Easy calibration of the air oxygen sensor
Alarm, Limit, Rinse Relays
Real time and statistics (minimums, maximums, last calibration)
Up to two current active outputs 4-20 mA
Easy connection to the M4016 unit, including data transfers to the Internet
The single-channel imaging and calibration unit M2001-E is designed for continuous measurement of dissolved oxygen, pH, redox potential, conductivity or turbidity. The unit communicates with the connected sensor via the RS485 bus under FINET or Modbus RTU protocols. The communication cable is terminated with a connector with high IP67 protection and is part of the delivery of the measuring set. If necessary, the communication cable can be extended up to 500m.
Relays and current outputs 4-20mA
To control the related technology, the M2001E registration unit is equipped with 3 relays with a switching contact for general use and one 4-20 mA analog output. The unit has a base for inserting a second analog output (it can also be ordered additionally), eg for transmitting temperature data to the master system.
Each relay can be individually programmed, for example, as a lower or upper limit relay or as a window comparator, alarm relay or as a time relay for regular switching in time.
Adjustable damping of the measured quantity facilitates the control of the frequency converter by the output current loop, for example when controlling the speed of the blower, because it prevents rapid changes of the measured quantity and thus possible oscillation of the controlled system.
Accessories
The M2001-E can be supplemented with a DE1 or DE2 sensor holder, a stainless steel cover for the KR1 calibration unit and a DELTA mains power supply. If the M2001 calibration unit is placed on a wall inside the building, then it is not necessary to order the KR1 cover.
Control units for water quality sensors