Types of SIM cards
Tariff or pre-paid SIM cards can be put into our telemetric stations. The only condition of using SIM card is activated GPRS. Also it is good to have an activated dial-up connection for needs of parameterization via dialling connection in GSM network.
Automatic checking of the credit balance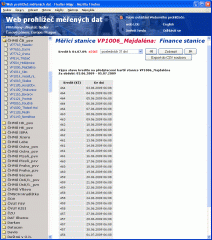 Pre-paid SIM cards have to be regularly top-up. Functions of the server display a credit balance and credit history. The longest period for which is possible to top-up SIM cards is 12months. Then the operator blocks the SIM card and unexpended credit.
Lending of tariff SIM cards
Our company offers a long term lending of SIM cards with tariff SMS-Data-Profi from Telefonica O2 for chosen users of our stations in the Czech Republic. These SIM cards tariff cost 40,-CZK/month and are suitable for stations: M4016-G3, STELA and HYDROLOGGER H1.
Data collecting and processing