Collecting and displaying of measured data from hydrometric stations
All data form hydrometric stations is transfered via GSM/GPRS into operator´s server or our server https://stanice-fiedler-magr.cz.
The frequency of data collecting is adjustable and usually it is from 15 minutes to 1 hour. When the water level is increased, the interval is automatically shortened.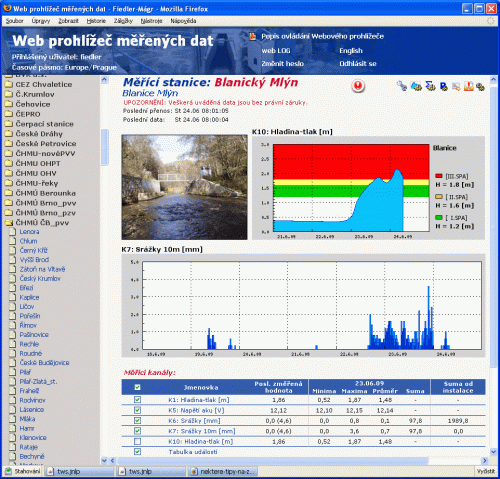 Our costumers, who have admission to our server, can do the remote parameterization of stations and configure graphic presentations of measured data. These functions are in detail described in the chapter "Data collecting and processing".
Virtual station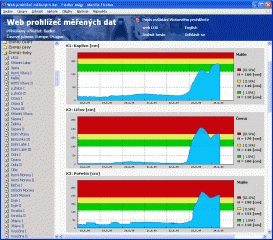 A very useful function on our server is a possibility to create virtual stations which individual channels are formed by real measuring channels from different telemetric stations. If channels from eight consecutive limnigraphic stations in one stream are inserted, the progressing of the rising or decreasing of high water will be obvious.
Sledovací agent
Na tomto našem hlavním serveru je v provozu také služba nazvaná "Sledovací agent", která dovoluje přednastavit podmínky, po jejichž dosažení bude automaticky na vybrané e-mailové adresy rozeslán předem připravený upozorňující email. Uživatelé našich stanic se tak mohou nechat varovat například o nízkém napájecím napětí akumulátoru ve stanici, o výpadku datového přenosu, o dosažení limitních hodnot na vybraných měřících kanálech a mnoho dalších funkcí.
Náš hlavní databázový server zajišťuje také sdílení dat mezi ČHMÚ a podniky Povodí, když pravidelně přeposílá data z vybraných vodoměrných stanic jedné organizace na server druhé organizace. Na jejich webových stránkách jsou pak data ze stanic M4016-G3 začleněna do jejich zobrazovacího systému aktuálních vodních stavů na řekách a jsou takto zpřístupněna široké veřejnosti.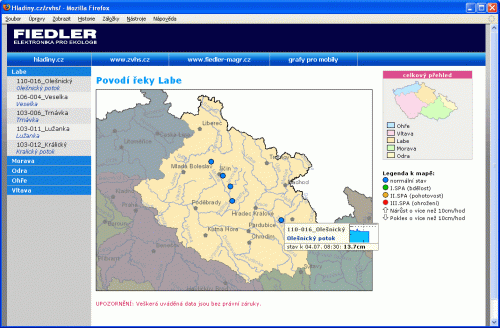 Data z mnoha stanic jsou také volně přístupná na našem druhém serveru www.hladiny.cz nebo na vlastních webových stránkách provozovatelů těchto stanic. Na adrese www.hladiny.cz/mobil najdete malé dvoudenní grafy aktuálních hladin vhodné pro zobrazení i na displejích mobilních telefonů.